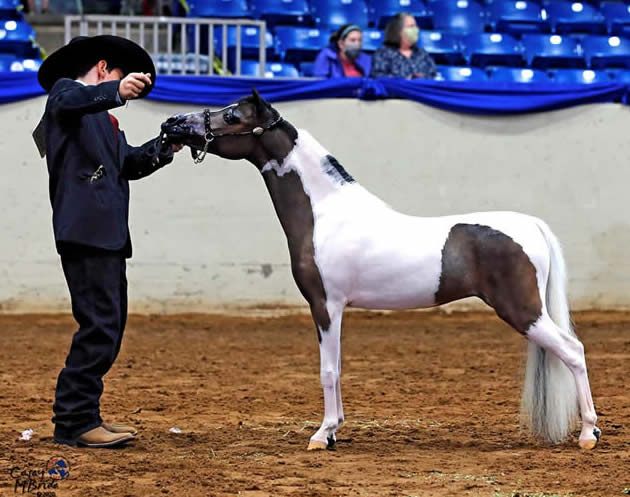 Hunterberry Hill Impressive Adora
(Dora)
AMHA/AMHR Parentage Qualified 50% Shetland 31.75" 2019 Bay Pinto Mare
ONLY OFFSPRING OF "RIVENBURGHS JESS LET ME IMPRESS SINCE 2018!!
Rivenburghs Jess Let Me Impressive x ERL Voltaires Ballet
3/24/2019
It's SO hard to let this one go!
"Dora" is a direct daugher of World SUPREME Triple Registered Jesse James son, RIVENBURGHS JESS LET ME IMPRESS.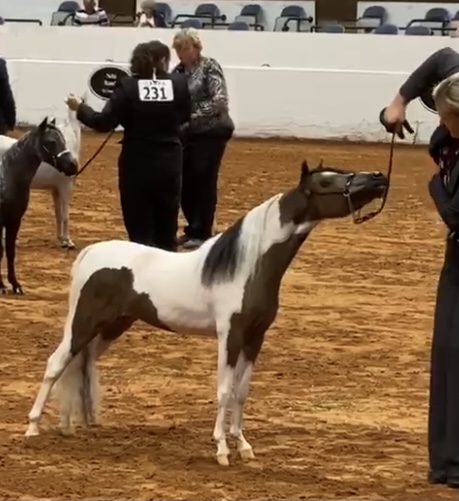 Dora (aks Dora the Explorer as she's SO sweet and inquisitive!) is the ONLY offspring of "Impress" since 2018 when Hunterberry Hill stopped breeding him.
First - her HEAD is SO amazing -
for sure the prettiest head I've ever seen on a Miniature Horse.
She's balanced and correct with an incredibly flat topline and tail set -
- not to mention a neck that goes on forever.
Anyone who knows me KNOWS I only keep horses with SWEET friendly temperaments.
Dora may even think she's a DOG -
she's friendly, personable and LOVES to interact.
She's also super SHOWY as well. Because o Covid19, Dora only showed at Eastern Regionals, Worlds and Nationals.
She was AMHA Eastern Regional CHAMPION in a youth class.
She went on to win top THREE in a HUGE amateur class at Worlds and AMHR Res National Champion Junior Mare in Youth 8-12 then Top Five in Yearling Mares 30-32" with Casey Campbell at AMHR Nationals.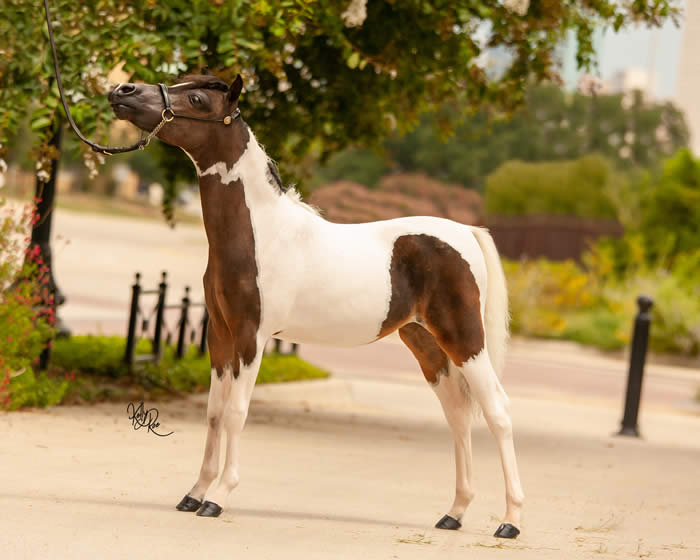 Dora is an easy measure as a yearling mare and should mature around 33' .
REALLY - I LOVE THIS MARE!
But 2020 has been hard, emotionally as well as financially.
Because of the struggles this year, I'm focusing on my community serice program (#hampsteadunicorns) and the sale of Dora will help me purchase a full sized unicorn to add to our FREE unicorn community service.
PEDIGREE - you CANNOT top this one!
Not only is Dora sired by World Grand and SUPREME Jesse James son, Impress -
she the FULL sibling to TWO multi World GRAND CHAMPIONS as well - so her pedigree is tried and TRUE.
PLEASE CONSIDER HER PURCHASE AS AN INVESTMENT IN OUR NON PROFIT UNICORN SERVICE!
SERIOUS OFFERS CONSIDERED SINCE THE PERFECT HOME IS MOST IMPORTANT
SALE PENDING 12/18/2020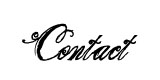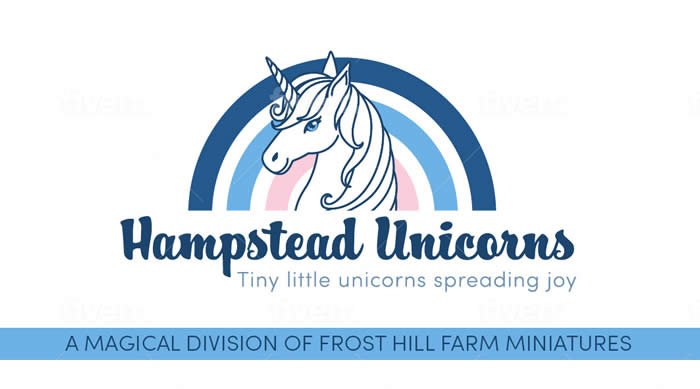 Karen Rudolph
FROST HILL FARM MINIATURE HORSES
www,hampsteadunicorns.com
www.frosthillfarmminiatures.com
(617) 320-3313 (TEXT ONLY UNTIL I KNOW YOU ARE SERIOUS!)
karen@minihorsesales.com
www.frosthillfarmminiatures.com
Located in Hampstead, New Hampshire 03841
(061521NX) Ad updated 12/16/2020