The Unicorns Project/Hampstead Unicorns
WE ARE AN OFFICIAL 501(C)3 SO ALL DONATIONS ARE TAX DEDUCTIBLE!
Thank you SO much for stopping by! Our project may be TINY but it is having a HUGE impact!
We've visited schools, assisted living facilities, food pantries and parties - at NO cost to those who requested the visit.
Our mission for The Unicorns Project is to provide equine interaction and engagement to students, residents of eldery care facilities and other community-based organizations to promote emotional and phycholoigcal well-being for community members.
As of August 1, 2023, we have amassed over 480 hours of community service, sharing our unicorns with animal lovers of all ages!
HOW CAN YOU HELP?
DONATE! We appreciate donations so very much! Every dollar is tax deductible since we are a verified 501c3 nonprofit. Your dollar helps buy unicorn feed, barn supplies and vet/farrier care and travel expenses.
Your support helps bring hope and encouragement, allowing us to share our unicorns with people who may never get the opportunity to interact with an equine.
Your love and generosity will help us continue our mission to spread joy through our tiny little unicorns!
With your help, we can extend our reach, sharing joy with those who truly need some inI their life.
WHO WE ARE:
My name is Karen Rudolph and I'm the founder and CEO of The Unicorns Project Inc. I've been an avid horse lover since I was a toddler. Horses have been an important part of my life and I have owned them since I was 13. I've always had a fascination with unicorns so in 2018 when my oldest granddaughter requested that a unicorn come to her 5th birthday party, my imagination took flight, and I transformed one of my Miniature Horses into a mythical unicorn. I suppose that was a precursor to this unicorn passion of mine.
Our board members consist of a group of unicorn loving ladies who want to be part of this vision – oh, and also a very tolerant husband who isn't much into unicorns but is fantastic at finances.
WE ARE OFFICAILLY A 501(c)(3) so ALL DONATIONS will be tax deductible. We VERY MUCH appreciate any and every donation, regardless of size!
INTERESTED IN A UNICORN VISIT? TEXT 617-320-3313
CURRENTLY WE ARE DOING VISITS AT OUR FARM ONLY UNTIL OUR NEW TRUCK ARRIVES!
HOW WE BEGAN
:
The Covid pandemic in 2020 changed lives. Kids were attending school remotely,; many adults were working from home, and SO many others were housebound and sad.
Early in the pandemic I purposed to add some joy to our community, so I began taking my unicorns for walks, every day. We'd walk to the local church, police station, local food bank, back roads and elementary schools. We'd walk in public view and each day we'd meet many lonely people (while social distancing and wearing masks!). EVERY time, they would walk away with a smile like a breath of fresh air.
And The Unicorns Project began. The phone started ringing. We'd go out each day and small crowds of people would gather to meet a unicorn.
Unicorn lovers of all ages, from toddlers to veterans (and even the priest from the local church) left a bit more joyful because of their unicorn interaction.
It is obvious, people NEED the joy that our little unicorns bring.
OUR UNICORNS:
Most of our unicorns are current or former show horses. Many with multiple World and National Champion titles. Each has qualities that make them perfect to bring joy to others. Fun fact – ALL of our unicorns have the same sire; a stallion named Billy Idol!
Of course, unicorns cost a LOT to feed and maintain!
OUR WISH LIST - SUMMER 2023
MAILING ADDRESS FOR GIFT CARDS AND DONATIONS IS:
KAREN RUDOLPH
11 AGAWAM AVE
HAMPSTEAD NH 03841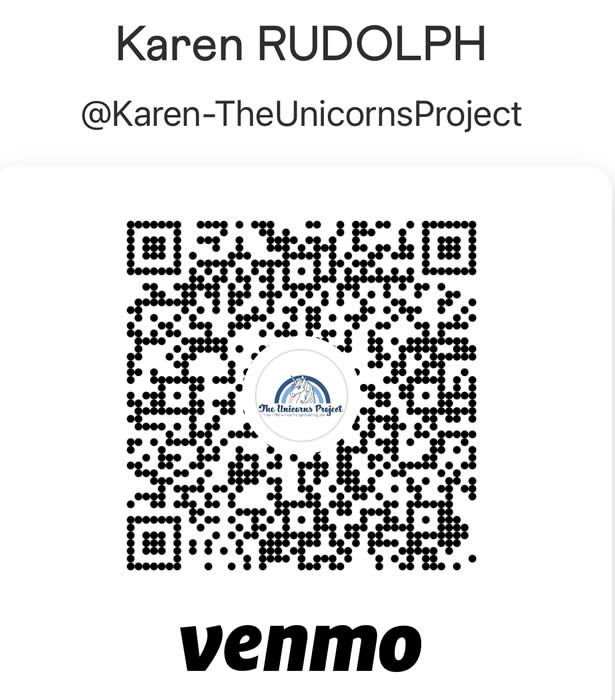 VENMO INFO IS Karen-TheUnicornsProject (PHONE) 617-320-3313 OR (EMAIL) JUSTABLAZE@COMCAST.NET (VENMO PREFERRED!
Paypal is justablaze@comcast.net (FRIENDS & FAMILY PLEASE SO WE DON'T HAVE TO PAY FEES!)
Please include your name and contact info on your donation so we can send you a reciept for your donation!
+ $ DODGE GRAIN GIFT CARDS (to purchase excellent HAY which they eat a LOT of - at about $300.00 per month) DODGE GRAIN 59 N BROADWAY, SALEM NH 03079

(603) 893-3739 PLEASE & THANK YOU!

+ $ FUNDS TO HELP COVER THEIR DENTAL CLEANING 2X PER YEAR ($180.00 Per Unicorn, including farm call fee) VET IS DR LEAH LIMONE - NORTHEAST EQUINE DENTAL VETERINARY SERVICE, 44R PROSPECT ST TOPSFIELD MA 01983

(978) 500-9293

+ $ FUNDS FOR VET VACCINATIONS, COGGINS & HEALTH ASSESSMENT - VET IS DEERFIELD VET CLINIC 150 SOUTH RD DEERFIELD NH 03037

(603) 463-7775

(Typically costs $185 per Unicorn, including farm call fee!)

+ $ RED BIRD SOFT PEPPERMINT PUFFS (individually wrapped candy) The #1 favorite treat for UNICORNS! AMAZON has them for $17.50 for 2.87 lbs.

+ $ FUNDS FOR HOOF TRIMMING($25.00 per unicorn) (HOOVES GET TRIMMED EVERY 7/8 WEEKS IN SPRING/SUMMER/FALL

+ $LAWYER FEES TO HELP COVER OUR 501(c)(3) INCORPORTION AND FILING FEES (EST $2,600.00)

+ $ CHEWY.COM GIFT CARDS (unicorn treats, ration balancer feed)

www.chewy.com (AVERAGE MONTHLY EXPENSE AROUND $340.00)

+ $ FUNDS TO HAVE OUR UNICORNS PROJECT LOGO GRAPHICS ADDED TO OUR HORSE TRAILER, USED TO BRING THE UNICORNS AROUND NEW HAMPSHIRE/MASSACHUSETTS (COST BETWEEN $1,200.00 TO $2,400.00)

+ $ GAS GIFT CARDS, ALLOWING US TO TRAVEL FURTHER!

+ $ TRACTOR SUPPLY GIFT CARDS (for grain, vitamin supplements, fly repellent spray & pellet bedding) MONTHLY EXPENSES THERE COME TO AROUND $280.00

www.tractorsupply.com

+ OUR BIG BIG (ok, HUGE!) WISH IS FOR A TRANPORT CARGO VAN SO WE CAN GO INTO MORE CITIES WITH "TIGHT" PARKING SITUATIONS!

IF YOU KNOW OF A CONTRACTOR WHO IS UPGRADING AND HAS A CLEAN, WELL RUNNING ONE, WE CAN CONVERT IT FOR 2-3 MINIS!

REMEMBER IT'S A TAX DEDUCTION!

(PHOTO AT RIGHT IS SIMILAR TO WHAT WE'D LIKE TO HAVE!)

+ NEW HORSE CLIPPERS & EXTRA BLADES! Unicorns do not shed their coats like full sized horses and need to be fully clipped every month between May and October (AND before every unicorn visit!) Cost to clip including time & new blades each time is about $80.00 per unicorn!

Also extra #10 blades are VERY helpful!

You can ship here directly from AMAZON!

11 Agawam Ave Hampstead NH 03841
OUR BOARD OF DIRECTORS
KAREN RUDOLPH (PRESIDENT)
JONATHAN RUDOLPH (TREASURER)
SARAH MURRAY (SECRETARY)
KATHY DEMARTINI
CAROLEE JANE SMITH
DEANNA CRANE
KIM SWEATT
Back to Frost Hill Farm Miniatures